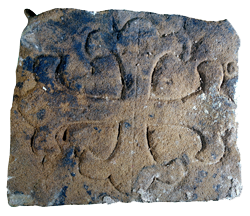 Medieval Chancel, 17th Century Tower, 19th Century Nave. Grade II listed.
The Church had its first recorded priest in 1545. Early documents state that in 1575 its Chancel was not 'in sufficient reparation', in 1595 'in great decay', and in 1663 two men were summoned 'for not repairing their chapel'.
The Nave of the Church was completely rebuilt in 1822, leaving only the original chancel and tower.
According to registers, St Helen's served as a Parish Church from Medieval times, until 1884 when a larger church was built nearby. In 1889 St Helen's became a cemetery chapel.
With rapid population growth, St Helen's was returned to parochial status in the early 1920s as the Church of Teesville, an early 20th century development, until a new church was built.
The last parochial service was held in the church on December 30th 1962. The church then resumed its earlier role as cemetery chapel. The last funeral was held around 1985.
The Church suffered increasingly from vandalism. By 1987, the building was 'in a critical state of disrepair'. It suffered a serious fire in December 1992, which destroyed the roofs. The building was then sealed off by the local authority. A 1994 report suggested retaining the tower, but lowering the walls to a few feet high and maintain the church as a ruin.
Despite its listed building status and the efforts to protect it, the destruction continued. The 1822 vestry was being illegally demolished and stonework stolen. Also, much of the 1822 chancel arch and parts of the medieval chancel were being pulled down.
Furnishings, such as the font and medieval cross were stolen. The Tudor stained glass was smashed out and stolen, presumably for the value of its lead, and the c.mid 19th cast iron chancel window was pulled out for scrap.
In early 1998 the local authority and English Heritage gave permission for the church to be deconstructed by Beamish, and transferred to the museum.
The deconstruction of the external 'envelope' took place in late September and early October 1998, with every block numbered and stored on palettes, whilst the remaining rubble of the building fabric was taken by skip. Around 200 carved stones were retrieved in total.
In early 2011, after months of sorting and renumbering the stonework on the pallets, the foundations were dug next to Pockerley Old Hall and work is ongoing to rebuild St Helen's to its former glory.